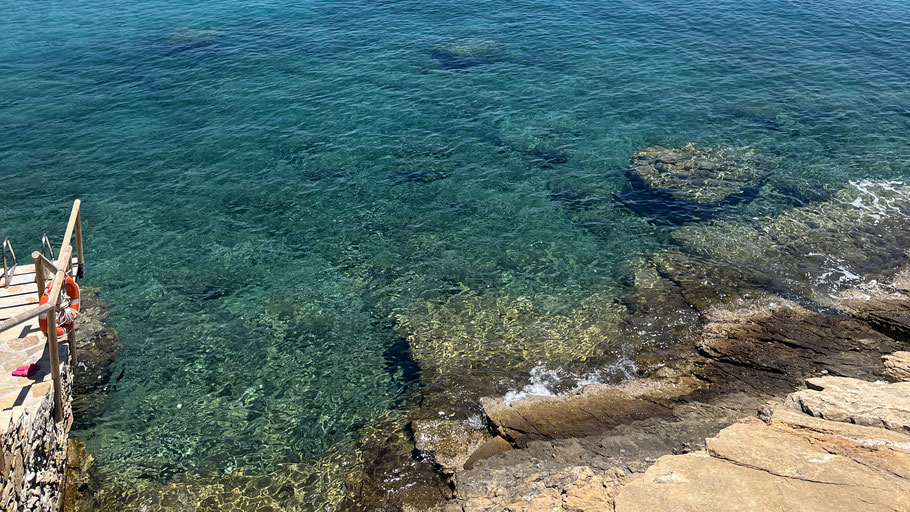 Stay:
Iberostar Creta Panorama & Mare. This 4* resort is perfect if you want to spend some carefree time on the North coast. The rooms are aged and you have to like the resort vibe but the location at the sea with two bathing bays is just outstanding. The animation program has a lot to offer (tennis classes cost 40€ per hour). You can book it here.
Eat:
If your stay does not include full-board, there are definitely great restaurants in the little towns around. We tried The Fanari in Panormo and enjoyed tasty grilled fish, local Stamnaghathi vegetables and the best bean stew ever.
Probably you will not get around tasting local specialties like Feta cheese, olive oil, olives, yoghurt, octopus.
We really liked Marathopita, little pita pancakes filled with wild fennel.
Do & See:
Rethymno: This port town is a charming place to buy some souvenirs and discover the Venetian past. The old town is perfect for a little stroll and there are many restaurants, pharmacies and shops. Here is a helpful overview by Discover Greece. From Iberostar you can reach Rethymno by bus for 2,20€ (one-way), which takes around 40 min.
Panormo is a small village (reachable from near-by hotels via Little Train) and lies at the North coast. You can gaze at the sea with a fruit juice from Vinzi Cafe or enjoy the beaches.
To treat yourself to some wellness try the Cretan-based Aegeo Spas. There is one conveniently located at Iberostar.
Geropotamos Beach. Right off the highway between Heraklion and Rethymno there is a quiet public beach with a river running into it. Delve into Europe describes it like this.